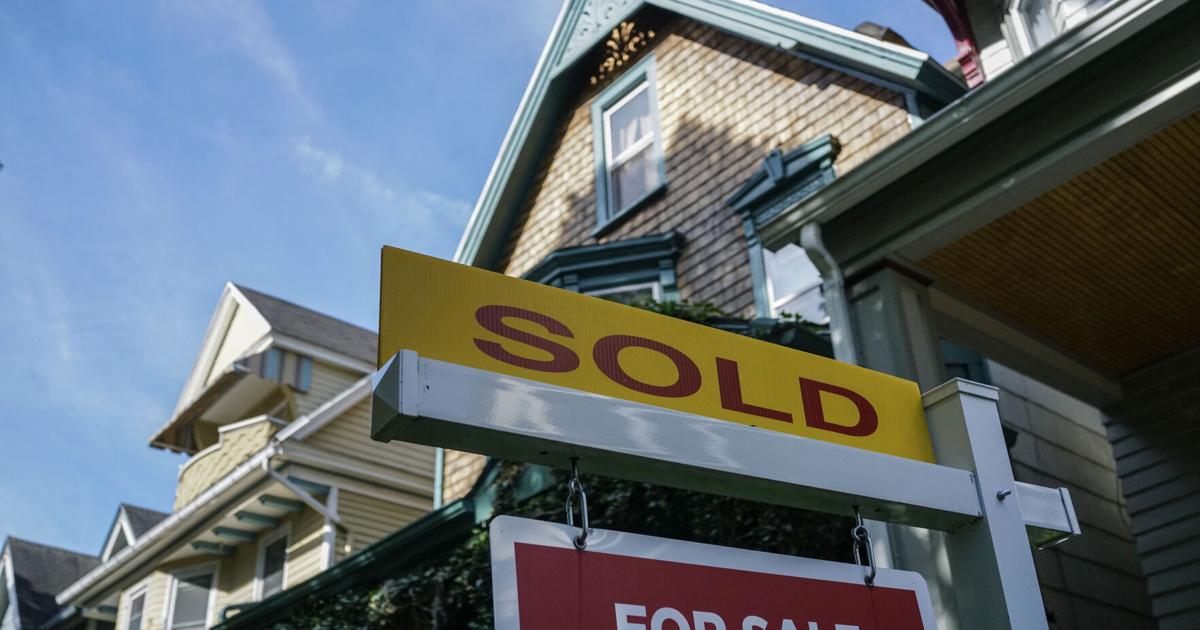 155 Briarhill Rd, Eve Y Feigelis, Jerry N Faitelson to Scott R Nodzo, $1,500,000.
5559 Oak Dale Ln, Paulette Gordon, David Gordon to The Wojcicki Family Protection Trust, $990,000.
151 Ruskin Rd, William M Morris, Marilyn E Morris to Hannah Piscatelli, Robert Piscatelli, $790,000.
80 Plumwood Ct, Keith Terryberry, Marie C Terryberry to Caitlin Jeanne Reich, Joshua D Reich, $712,000.
29 Gesel Ln, Forbes Homes Inc to Araceli Olvera Granados, Fernando Medellin Perez, $660,383.
55 Halston Pkwy, David M Stearman, Jennifer Judelsohn to Lorne M Freedman, Rebecca P Freedman, $636,500.
104C California Dr, Natale Building Corp to David Serra, $584,900.
136 Corsica Way, Ryan Homes Of New York to Prasanna Kumar Kandregula, Manasa L Kandregula, $415,050.
2329 Kensington Ave, Mary E Mckowan Travis AKA Mary M Mckowan Travis to Sarah A Milby, $361,900.
20 Noel Dr, Julie Ellen Taylor, Matthew Steven Taylor to Feng Juan Yang, $319,900.
101 Hampton Hill Dr, Mark Milwick to Paul Milwick, $300,000.
225 Wedgewood Dr, Beverly Sue Moncer Drake, Lawrence D Drake, Lawrence D & Beverly Sue Moncer Drake Trust to Albert Michaels, Wilkinson Michaels, $290,000.
125 E Summerset Ln, Amherst Rental Group Llc to Zahid Miah, $232,000.
29 Lorfield Dr, Kenneth L Seldeen, Claudia C Recinos to Tracy Zawistowski, George Kardoulias, $223,000.
170 Hillcrest Dr, Wny Development Inc to David Frazier, $155,000.
641 Skinnerville Rd Unit E , Lindsay Macdonald to Anna Martell, Lorraine Schwagler, $150,000.
58 W Klein Rd, Christina L Bridge to Next Home Wny Llc, $144,307.
419 Burroughs Dr Unit F , Kevin M Barden to Elizabeth Merrill, $143,500.
105 Carmen Rd, Colleen K Oppermann to Four Friends Construction Corp, $115,000.
4 The Tradewinds Unit D, Jyothi Lakshmi Rebala, Pradeep Rebala to Lawrence Alan Kohrn, Sarah Allison Kohrn, $95,000.
5 Salisbury Ave, Laurie J Texido to Bonnie Jean Baginski, Jason Robert Baginski, $150,000.
88 Oakland Pl, Michael Hartke, Kenneth Mazur to Samuel Fleming, Ye Wu, $1,200,000.
274 Lakefront Blvd Unit 103B, Lakefront Boulevard Llc to Joseph Bockus, Jennifer Bockus, $899,000.
41 Lancaster Ave, Uniland Properties Ltd to Molly E Moore, $850,000.
509 Linwood Ave, Dennis S Patrone, Vanessa B Patrone to Colin Morrissey, $380,000.
326 Bryant, Karen Yan Jiang, Mei F Jiang to Maja Breznik, Aaron J Abbarno, $370,000.
459 Huntington Ave, Cassandra A Cammarata to Samuel Peter Cammarata, $350,000.
383 Washington, Andrea Schnopp, Julian Schnopp to Kristin Nguyen, Trung Q Nguyen, $338,000.
104 Taunton, Alexandria T Makowski to Alexander T Anelli, Megan L Syrell, $305,000.
137 Hamlin Rd, Cheryl L Olive to Angela G Carr, Michael A Carr, $210,000.
105 Sanders Rd, Catherine A Usewicz to Gabrielle R Hardy, $206,000.
309 North St Unit 22, Benjamin E Paluch to Benode Bihari Llc, $198,000.
60 Donaldson Rd, Cheryl E Dublin, David L Edmunds Jr to Jazmine Butler, Rachel Butler, $190,000.
233 Englewood Ave, Lillian A Serra to Christopher M Wadsworth, $190,000.
38 Weston, Yvette Ward to Andrea I Lewis, $190,000.
309 Nor, Veronica L Horowitz to Sawa Hawramy, $189,000.
291 Lisbon Ave, Sukran Ullah Corporation to Tahmina Chowdhury, $185,400.
40 Lisbon, Sabrina Property Inc to Algerson Andre, $178,000.
101 Brinton St, Janine C Zackheim AKA Nina C Zackheim to Joanna Herbaczewska, Daniel Bernatowicz, $175,000.
14 Glor St, Janmarie Robinson to Mitsuko Korobkin, $172,000.
367 Weimar, Khaled Alabadi to 367 Weimar Llc, $155,000.
488 Lisbon, Karolina Bazylewicz to Emerald Property Collection Ny Llc, Redbird Properties Llc, $145,000.
164 Shirley Ave, John D Dent Jr, Kathleen R Sykes to Calvin J Hamilton, $138,000.
123 Evelyn St, Linda Ortman Funk, Kevin W Funk, Kimberley Davis to Suheir Sultan, Ibrahim Salim, $125,000.
160 Stanislaus, Fatima Memon to Asfakhusen Shaikh, $125,000.
48 Hagen St, Amber N Allen to Md H Kabir, $120,000.
67 Mineral Springs, 416Homez Inc to Mgii Properties Llc, $118,000.
12 Palos Pl, Timothy T Ferguson to Joseph Pezone, $115,000.
95 Kelburn, Deborah Wojciechowski, Sharon Dekanski, Darryl Sittniewski to Dawn Cousins, $115,000.
63 Roslyn St, Ymr Homes Llc to Mohammad Raihan Kabir, $100,000.
360 Fourteenth St, Matchless Realty Llc to No Za Met, $99,000.
237 Westminster Ave, Andrea Lewis to Njw Properties Llc, $92,000.
218 Dewitt, Aernam Rosemary Van to Solomon Berhe Negash, $90,000.
310 Madison, Taherul Islam to Sahlam Bin Noor Ahmad, Zahidah Begum Mohamad Subahan, $87,000.
354 Cornwall, Adele Hyla-Brewster to Fahad Islan, Mosammat Fatema Aktar, $85,250.
302 Walden, Odeen Eccleston to Badraddin Nagi, $80,000.
27 Stratfo, James Dyson to This Ones For The Boys Llc, $75,000.
652 Wyoming Ave, Lnv Corporation to Sami Afnan, $71,000.
78 Briggs Ave , Donald E Abbott, Debra L Abbott to Rock Hard Properties Llc, $70,000.
28 Arkansas St, John J Carroll II, John J Carroll IV to Ym Property Group Llc, $50,000.
45 Roslyn, Israt Jahan Hossain to Menaj Corporation, $45,000.
70 Sears, Mark Adamusik to Mohamad Alam Mohamed Kasim, $45,000.
95 Vandalia St, Home Chex Inc to Mohammad Pradhan, $40,000.
19 Lawrence, Miloman Llc to Medusa Development 1 Llc, $40,000.
446 Plymouth, Pedro Omar Alvarado, Samantha Darby to Alberto Dominguez Cardenas, Miguelina Mercado, $40,000.
66 Gladstone, Forward Co Ltd to Qusay Salah, $30,000.
135 Reiman, Md Shahinur Rashid Molla to United Bd Friends Inc, Muhammad Rakebul Arif, $20,000.
220 Metcalfe St, Madalin Kosmoski to Md Amir Hossain, Mohammad Abdul Awal, $20,000.
177 Whitney Pl, Nicole M Burgio to Daniel Mcdowell, Lindsay Wilcox, $362,000.
75 Joseph St, Elizabeth A Rice, Peter J Rice to Fatheha Begum, Tufayel Ahmed, $355,000.
156 Rushford Hollow Dr, Patricia L Machnica to Marianne Pernick, $310,000.
43 Janine Ct, Mary H Allis to Jonathan A Velazquez, Michelle Velazquez, $301,600.
56 S Prince Dr, Gary C Lyons, Sandra K Lyons to Jesse Odell, Arrielle Orourke, $268,000.
30 Meadaowlawn Rd, Patricia A Zuppa to Ravinder Singh, $250,000.
545 Washington Hwy, Christina Turner Parker, Stephon G Parker to Maya Lawson, Jeremiah Lawson, $250,000.
102 Surfside Pkwy, David T Merrell, Denise Merrell, Patricia I Merrell, Donna Manquen to Joseph A Polichetti, Kimberly S Polichetti, $235,000.
116 Wallace Ave, Mrr Property Solutions Llc to Andre Williams, $225,000.
17 Vern Ln, Kelly J Obrokta to Taneka Heard, $205,500.
70 Laura Ct, Jane T Kosicki to Shakhawat Hossain, $205,000.
714 S Huth Rd, Diane Schiavone to Anthony J Verhagen, $196,100.
64 Lordan Dr, Jeanette T Stinson to Melissa Nicole Leroy, $195,000.
48 Marilyn Dr, Palmerton Properties Llc to Joshua C Gilbert, Katelyn A Gilbert, $190,000.
245 Aris Ave, Buffalo Group Llc to Christopher Swierat, $184,900.
57 Colby St, David A Lattner to Adam M Galbraith, $183,000.
35 Woodland Ter, Robert R Wroblewski, Kathy A Koeppel to Mohammed M Hussain, $181,050.
12 Gardenvale Dr, Am Realty Management Services Llc to Nha Enterprises Llc, $180,000.
274 Boll St, Jonathan Pontrello to Rosalyn Barnes, $170,000.
37 Winkler Rd, Rovina Kirkland to Finesse Dora Mitchell, $165,000.
57 Aberdeen St, Jennifer A Borgioli to Brigitte A Wilk, $150,000.
9-11 Idlebrook Dr, Latifa Llc to Next Home Wny Llc, $149,000.
3433 Harl, Russell V Hayes to Antoinette D Charles, Richard D Charles, $93,000.
40 Kendale Rd, Michelle Awolesi to Reynelle R Talford, $82,000.
144 Alexander Ave, Theresa A Hopkins, Daniel Schaus to Bibi Kohinur Corporation, $57,370.
85 Jackson Ave, John P Podsiadlo to Tabitha J Ryan, Clifford C Boivin, $47,000.
9044 Somese, Essex Homes Of Wny Inc to Marie C Terryberry, Keith J Terryberry, $877,925.
9423 B Heritage Path, Heritage Path I Llc to Christina Ryan Irrevocable Trust, $435,000.
8890 Tonawanda Creek Rd, Lee & Suzanne Vermeulen Irrevocable Trust to Kerry Petrie, $340,000.
8747 State Rd, Vineeta S Risbood to Sarah Breidenstein, Steven J Breidenstein, $230,000.
3746 Route 39, Marcia J Bukowski, Michael C Bukowski to Kaytlynn M Darling, $100,000.
13613 Brewer Rd, Joseph H Kehr, Julie L Kehr to Troy Fedick, $20,000.
11275 Springville Boston Rd, Joseph J Sciortino to Rosemarie Hesser, Sean T Hesser, $60,000.
65 Tyler St, Bart M Grady to Michael Zaragoza-Anderson, $277,000.
95 Lewan Dr, David P Whalen, Joseph J Terranova to Tms Wny Property Inc, Md Abubakar Siddik, $159,000.
161 Calumet St, Sandra Stumpf, to Sarah Alrashedi, $70,000.
242 Willardshire Rd, Elizabeth S Wallace, Paul K Wallace to Blackfish Creek Llc, $915,000.
2520 Beverly Ave, Sunset Custom Homes Inc to Dennis Caez, Susan M Caez, $489,000.
2713 Green St, Jenna M Szymanski, Skyler J Szymanski to Ryan P Gaglione, $158,000.
1991 Transit Rd, Brian M Jascur to Christina Elia, Jessica Gentz, $370,000.
31 Pond Brook Dr, Kathleen G Hall to Barbara Ann Hulsing, Russell Dean Hulsing, $251,000.
Vl Clinton St, Lu Anne Laufer, David Monin, Harry Monin, Keith Monin, to Sara Fall, $195,000.
6920 Clinton St, Keith C Bkr Tr Monin, Danielle R Bkr Tr Monin, Mark J Bkr Tr Schlant to Sara Fall, $65,000.
1306 Gowans Rd, Robert Palmer to Wes-Ma Farms Llc, $145,000.
7508 Derby Rd, Eugene F Martin to Aaron J Buck, $135,000.
86 The Commons, Jeffrey S Willis, Andrea Tarshus to James Miller, Melissa R Miller, $450,000.
126 Stonebridge Rd, Brandon L Mumaw, Lauren J Mumaw to The Darien & Jennifer Holler Trust, $385,000.
2098 Ferry Rd, Marlene J Obrien, John F Obrien to Alwxandra T Makowski, Kurt Stanley Makowski, $350,000.
4067 Connors Way, Emmanuel E Lawson to Kelly M Murphy, $405,000.
170 George St, Cindy A Piazza to Steven Cultrara, $110,000.
4268 South Park, Done Well Properties Llc to Amy Flis, $40,000.
202 Knowlton Ave, Josephine Sciandra, Angelo S Sciandra to Robin Howell, Braden T Howell, $252,000.
40 Victoria Blvd, Grace Lloyd to Corey Bieniak, $215,000.
350 Hamilton Blvd, Gloria J Ditondo to Paul Tagliarino, $150,000.
179 Edison St, Bao-Dzuy H Nguyen, Kayla T Ong to Courtney Hatten, $226,000.
84 Autumn Ln, Mindy M Wise, Randy T Wise to Kieth M Henry, $190,000.
13 Modern Ave, Jeffrey Kulczyk to Frederick A Costantino, Kayley M Omlor, $189,999.
1234 Ridge Rd, Marib A Dhalai to Ayesha Upoma, Samsuddin Fnu, $189,000.
87 Elkhart Ave, 2028 South Park Llc, to Jeffrey Mcarthur, Amy Mcarthur,$95,000.
19 Lehigh Ave, Kmrt Llc to Orlando Garcia, $20,000.
8 Candlestick Ct, Michael J Ziemann, Tara L Ziemann to Sylvester L Gittens, Molly Allison Dandino-Gittens, $540,000.
4852 William St, Steven Deuser to Stephen Gosciak, $300,000.
144 Northwood Dr, Maureen E Chambers to Morgan Owczarczak, $225,000.
27 Olde Stone Ln, Paul J Blachowicz to Jamie Gwin, $150,000.
5619 Genesee St, Team Soda Properties Llc to Robert A Kupiec, Katie Norris, $115,000.
9 Newell Ave, Sfr3-060 Llc to Alaa Mansi, $90,000.
5040 South Newstead Rd, The Thomas P Muck Living Trust to Matthew Lennert, $281,500.
6012 Crittenden Rd, Jason W Wruck, Melanie L Wruck to Jason W Wruck, $14,500.
115 Autumn Ln, Oak Orchard Development Llc to Marissa Harmer, Michael Harmer, $779,495.
7095 Jewett Holmwood Rd, Nuwer Family Trust to Cheryl Nichy, Jon W Nichy, $430,000.
45 Curley Dr, Joseph L Komoroske to Jeremy B Harvey, Sarah J Piasecki, $405,000.
36 Park Ave, John P Figueroa, Stephanie H Figueroa to Keysha Cantres, $222,600.
208 Walter Ave, Rozalind J Adams to Richard W Davenport, $170,000.
340 Grove St, Anna E Haag to Queen City Invest Llc, $112,500.
163 Rochelle Park, David G Sabatino to Yuhao Du, Qinyu Zuo, $270,000.
111 Dunlop Ave, Ann M Drapo to Karen Holloway, $248,000.
294 Fairfield Ave, Aubree J Canzoneri to Ashley Strough, Eli Boltz, $230,000.
36 Boswell Pl, Sughra Abdelfatah to Win Htoo, $210,000.
938 Highland Ave, Joseph S Sclafani to Sage Nicholas Peters, $207,000.
318 W Girard Blvd, Edward T Farrell to Colin Edward Farrell, $206,150.
229 Harrison Ave, Madison Anne Douglas to Dylan Christopher Falank, Ellen Catherine Scherer, $195,000.
403 Wendel Ave, Annette T Mussachio to Timothy E Walton, Elaine Marie Walton, $185,000.
128 Old Colony Ave, Robert J Gibbons to Alanna H Mergel, $183,900.
189 Cortland Ave, John Bargnesi Jr to Samantha Barry, $183,000.
61 Green Acres, Lori Mallone to Darien Pauls, Kristen Pauls, $155,000.
207 Claremont Ave, Daniel Glushefski to Amwny Holdings Llc, $110,000.
604 Carriage Ln, Joel M Cancilla to Beverly A Merowchek, $360,000.
130 Allendale Rd, Rita Kay Forys, Walter P Forys to Duncan Vandurme, Chelsea Vandurme, $335,000.
149 South Dr, Ryan Homes Of New York to Matthew Vallone, Jennifer Silvey, $290,085.
111 South Dr, Ryan Homes Of New York to Madelyn Schafer-Oreiro, $284,682.
147 South Dr, Ryan Homes Of New York to Richard Davis, $275,575.
141 North Ave, Broadway Property Management Llc to Michelle Stebbins, $235,000.
10 Chippewa Ct, Brian J Lester, Virginia M Szustakowski to Tessa Widmer, $169,600.
31 Christopher Dr, Michael A Benson, Mary Ellen White, Patrick J White to Dreamco Development Corp, $167,700.
1993 Ridge Rd, Dorothy Distefano, Donald Lewinski III to Federal National Mortgage Association, $156,832.
315 Collins Ave, Sharon Scime to Rebecca Scime, Scott Aldrow, $118,000.
#lee-rev-content { margin:0 -5px; } #lee-rev-content h3 { font-family: inherit!important; font-weight: 700!important; border-left: 8px solid var(–lee-blox-link-color); text-indent: 7px; font-size: 24px!important; line-height: 24px; } #lee-rev-content .rc-provider { font-family: inherit!important; } #lee-rev-content h4 { line-height: 24px!important; font-family: "serif-ds",Times,"Times New Roman",serif!important; margin-top: 10px!important; } @media (max-width: 991px) { #lee-rev-content h3 { font-size: 18px!important; line-height: 18px; } }
#pu-email-form-buffalo-next-article { clear: both; background-color: #fff; color: #222; background-position: bottom; background-repeat: no-repeat; padding: 15px 0 20px; margin-bottom: 40px; border-top: 4px solid rgba(0,0,0,.8); border-bottom: 1px solid rgba(0,0,0,.2); } #pu-email-form-buffalo-next-article, #pu-email-form-buffalo-next-article p { font-family: -apple-system, BlinkMacSystemFont, "Segoe UI", Helvetica, Arial, sans-serif, "Apple Color Emoji", "Segoe UI Emoji", "Segoe UI Symbol"; } #pu-email-form-buffalo-next-article h2 { font-size: 24px; margin: 15px 0 5px 0; font-family: "serif-ds", Times, "Times New Roman", serif; } #pu-email-form-buffalo-next-article .lead { margin-bottom: 5px; } #pu-email-form-buffalo-next-article .email-desc { font-size: 16px; line-height: 20px; margin-bottom: 5px; opacity: 0.7; } #pu-email-form-buffalo-next-article form { padding: 10px 30px 5px 30px; } #pu-email-form-buffalo-next-article .disclaimer { opacity: 0.5; margin-bottom: 0; line-height: 100%; } #pu-email-form-buffalo-next-article .disclaimer a { color: #222; text-decoration: underline; } #pu-email-form-buffalo-next-article .email-hammer { border-bottom: 3px solid #222; opacity: .5; display: inline-block; padding: 0 10px 5px 10px; margin-bottom: -5px; font-size: 16px; } @media (max-width: 991px) { #pu-email-form-buffalo-next-article form { padding: 10px 0 5px 0; } } .grecaptcha-badge { visibility: hidden; }