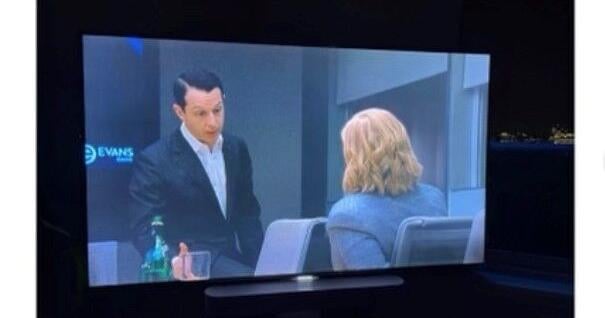 Yes, that was the Evans Bank logo that popped up in the latest episode of HBO's "Succession."
The logo appeared briefly on a screen in a conference room behind two of the characters. It was there for only two or three seconds, but long enough for some viewers to notice.
"My phone was lighting up," said Chris Passarell, chief marketing officer for the Amherst-based bank.
Earlier in the episode, an Evans TV spot ran in the background, but was not as noticeable.
Passarell worked with a Hollywood company – he declined to name it – that coordinates product placement in movies and TV shows. He had a relationship with that company from jobs in his pre-Evans career, such as at Russell Athletic.
Passarell wouldn't say how much Evans paid. But he said it was "good bang for the buck," given the show's popularity, and the buzz the cameo generated.
Evans might appear in "Succession" again this season, so stay tuned.
And the bank is also exploring the possibility of a placement in a movie or two.
#lee-rev-content { margin:0 -5px; } #lee-rev-content h3 { font-family: inherit!important; font-weight: 700!important; border-left: 8px solid var(–lee-blox-link-color); text-indent: 7px; font-size: 24px!important; line-height: 24px; } #lee-rev-content .rc-provider { font-family: inherit!important; } #lee-rev-content h4 { line-height: 24px!important; font-family: "serif-ds",Times,"Times New Roman",serif!important; margin-top: 10px!important; } @media (max-width: 991px) { #lee-rev-content h3 { font-size: 18px!important; line-height: 18px; } }
#pu-email-form-buffalo-next-article { clear: both; background-color: #fff; color: #222; background-position: bottom; background-repeat: no-repeat; padding: 15px 0 20px; margin-bottom: 40px; border-top: 4px solid rgba(0,0,0,.8); border-bottom: 1px solid rgba(0,0,0,.2); } #pu-email-form-buffalo-next-article, #pu-email-form-buffalo-next-article p { font-family: -apple-system, BlinkMacSystemFont, "Segoe UI", Helvetica, Arial, sans-serif, "Apple Color Emoji", "Segoe UI Emoji", "Segoe UI Symbol"; } #pu-email-form-buffalo-next-article h2 { font-size: 24px; margin: 15px 0 5px 0; font-family: "serif-ds", Times, "Times New Roman", serif; } #pu-email-form-buffalo-next-article .lead { margin-bottom: 5px; } #pu-email-form-buffalo-next-article .email-desc { font-size: 16px; line-height: 20px; margin-bottom: 5px; opacity: 0.7; } #pu-email-form-buffalo-next-article form { padding: 10px 30px 5px 30px; } #pu-email-form-buffalo-next-article .disclaimer { opacity: 0.5; margin-bottom: 0; line-height: 100%; } #pu-email-form-buffalo-next-article .disclaimer a { color: #222; text-decoration: underline; } #pu-email-form-buffalo-next-article .email-hammer { border-bottom: 3px solid #222; opacity: .5; display: inline-block; padding: 0 10px 5px 10px; margin-bottom: -5px; font-size: 16px; } @media (max-width: 991px) { #pu-email-form-buffalo-next-article form { padding: 10px 0 5px 0; } } .grecaptcha-badge { visibility: hidden; }