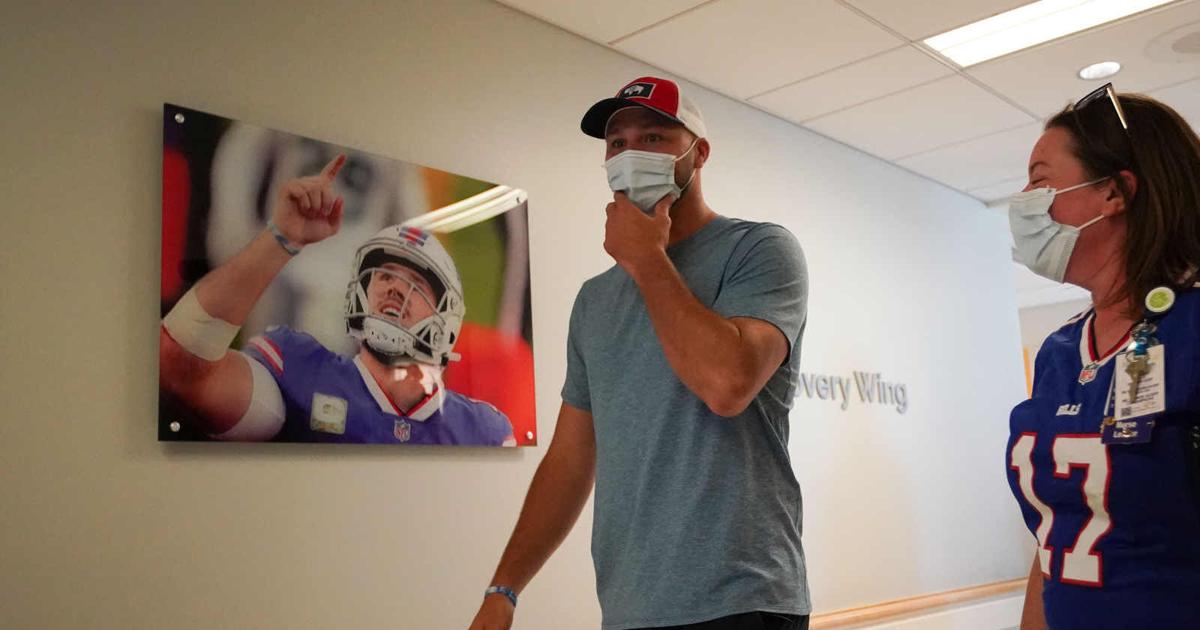 Want to drive the truck that Buffalo Bills quarterback Josh Allen used to own?
West Herr Automotive Group will be giving away the 2019 Ford F150 Raptor Truck once driven by Allen as part of a contest aimed at raising funds to benefit John R. Oishei Children's Hospital.
The contest winner also will have the choice to instead choose a monetary prize of $100,000.
The truck formerly owned and driven by Allen has been autographed by the quarterback for this giveaway.
Only one winner will be chosen.
The contest was introduced as the Bills prepare for the start of the 2023 regular season, which gets underway on "Monday Night Football" Sept. 11 against the New York Jets.
Allen is one of several Bills' spokesmen for the automotive group and can be seen often on TV commercials for West Herr aimed at highlighting the lighter side of one of the NFL's biggest stars.
"Everyone on Team West Herr is a massive Josh Allen fan, so we are very excited to have the opportunity to give away Josh's truck to one lucky fan," said Matt Lasher, West Herr's marketing director. "This is truly a one-of-a-kind prize, and there is no better way to kick off the upcoming football season."
Participants can enter the contest once a day for the length of the contest, from Sept. 1 through Oct. 16, by visiting westherr.com.
After entering, participants will be given the option of making a donation to the Patricia Allen Fund, benefiting Oishei Children's Hospital.
#lee-rev-content { margin:0 -5px; } #lee-rev-content h3 { font-family: inherit!important; font-weight: 700!important; border-left: 8px solid var(–lee-blox-link-color); text-indent: 7px; font-size: 24px!important; line-height: 24px; } #lee-rev-content .rc-provider { font-family: inherit!important; } #lee-rev-content h4 { line-height: 24px!important; font-family: "serif-ds",Times,"Times New Roman",serif!important; margin-top: 10px!important; } @media (max-width: 991px) { #lee-rev-content h3 { font-size: 18px!important; line-height: 18px; } }
#pu-email-form-buffalo-next-article { clear: both; background-color: #fff; color: #222; background-position: bottom; background-repeat: no-repeat; padding: 15px 0 20px; margin-bottom: 40px; border-top: 4px solid rgba(0,0,0,.8); border-bottom: 1px solid rgba(0,0,0,.2); } #pu-email-form-buffalo-next-article, #pu-email-form-buffalo-next-article p { font-family: -apple-system, BlinkMacSystemFont, "Segoe UI", Helvetica, Arial, sans-serif, "Apple Color Emoji", "Segoe UI Emoji", "Segoe UI Symbol"; } #pu-email-form-buffalo-next-article h2 { font-size: 24px; margin: 15px 0 5px 0; font-family: "serif-ds", Times, "Times New Roman", serif; } #pu-email-form-buffalo-next-article .lead { margin-bottom: 5px; } #pu-email-form-buffalo-next-article .email-desc { font-size: 16px; line-height: 20px; margin-bottom: 5px; opacity: 0.7; } #pu-email-form-buffalo-next-article form { padding: 10px 30px 5px 30px; } #pu-email-form-buffalo-next-article .disclaimer { opacity: 0.5; margin-bottom: 0; line-height: 100%; } #pu-email-form-buffalo-next-article .disclaimer a { color: #222; text-decoration: underline; } #pu-email-form-buffalo-next-article .email-hammer { border-bottom: 3px solid #222; opacity: .5; display: inline-block; padding: 0 10px 5px 10px; margin-bottom: -5px; font-size: 16px; } @media (max-width: 991px) { #pu-email-form-buffalo-next-article form { padding: 10px 0 5px 0; } } .grecaptcha-badge { visibility: hidden; }