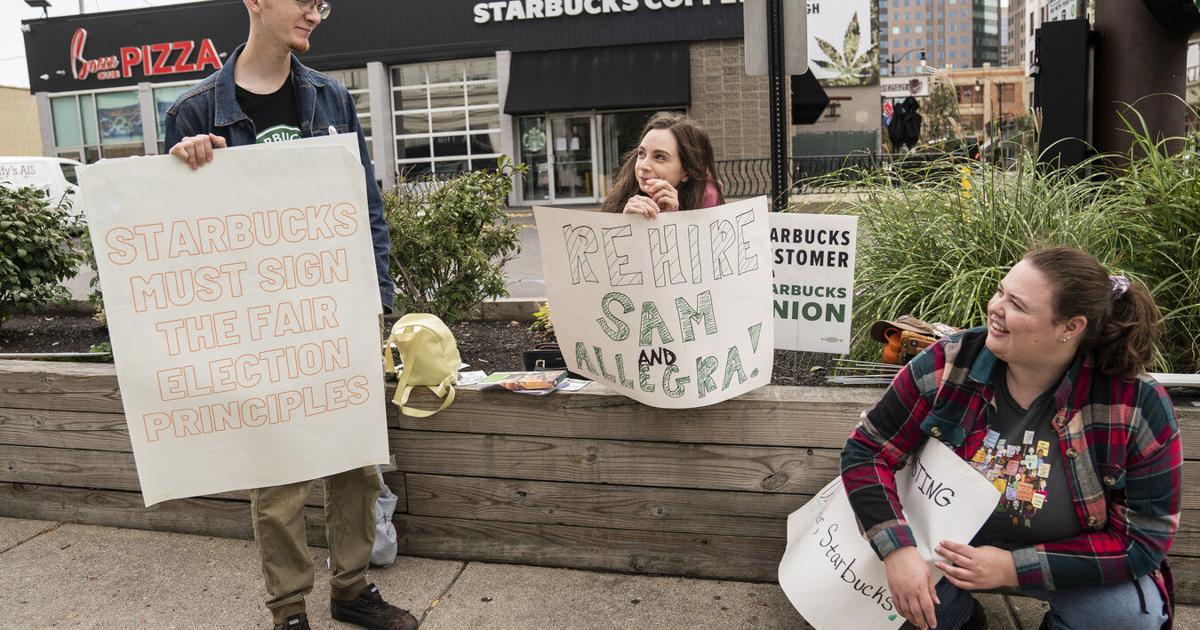 The Starbucks store at the corner of Delaware Avenue and Chippewa Street was the sixth Starbucks in Buffalo to form a union. Now, it's the first to file a petition to oust it.
But workers, the union and a labor scholar said the move is just the Starbucks Corp.'s latest variation of union busting.
Last week, that store filed paperwork with the National Labor Relations Board to decertify its union, something that can be done if support for a labor union wanes. In order to decertify a union, workers must collect signatures from at least 30% of workers in a unit, according to the National Labor Relations Board. The outcome is decided by a majority of votes.
But workers and the union paint a picture of pro-union workers consistently being fired from or pushed out of the location, while new workers are steadily pressured to side against the union. After stores began to unionize, Starbucks gave pay hikes and other benefits to workers at all of its stores, except the ones that unionized. The NLRB has filed a complaint, saying that is a violation of labor law.
"This has been Starbucks' strategy from the beginning: Don't bargain in good faith, fire workers, don't give union stores new benefits, cut hours of union workers so those not fired quit," said Richard Bensinger, senior adviser to Workers United, the labor union representing Starbucks workers. "It ain't subtle."
Starbucks did not respond to a request for comment.
The current manager at the Delaware and Chippewa location began talking about decertification early in her tenure, Bensinger said.
"They just need 30% and they can quietly try to get that," he said.
Allegra Anastasi, an eight-year Starbucks veteran, shift supervisor and labor leader who was fired from the Delaware and Chippewa store in August, said she is not surprised the decertification filing came from that store.
"There were at least 100 corporate employees that stayed in the area once stores announced that they were unionizing, and they were all staying across the street from Delaware and Chippewa," she said.
"It seemed like we were under heavy watch. They were coming in and out of the store and behind the counter 24/7."
Cathy Creighton, director of Cornell University's School of Industrial Labor Relations Buffalo Co-Lab, said the decertification petition will likely go nowhere.
"This will almost certainly be dismissed because of the many substantial unfair labor practice charges pending against Starbucks," she said. "When there are so many charges filed against an employer, then the NLRB will not proceed with a decertification petition."
The many charges would point to an instance of a "poisoned" workplace, Creighton said, and a decertification election wouldn't be able to be held until the unfair labor practice charges were remedied.
"A fair election could not happen in such an atmosphere," she said.
In April, a store in Georgia filed a petition to decertify its union but later withdrew it.
More than 250 Starbucks stores have unionized across the country since the first stores organized with Workers United in Buffalo.
#lee-rev-content { margin:0 -5px; } #lee-rev-content h3 { font-family: inherit!important; font-weight: 700!important; border-left: 8px solid var(–lee-blox-link-color); text-indent: 7px; font-size: 24px!important; line-height: 24px; } #lee-rev-content .rc-provider { font-family: inherit!important; } #lee-rev-content h4 { line-height: 24px!important; font-family: "serif-ds",Times,"Times New Roman",serif!important; margin-top: 10px!important; } @media (max-width: 991px) { #lee-rev-content h3 { font-size: 18px!important; line-height: 18px; } }
#pu-email-form-buffalo-next-article { clear: both; background-color: #fff; color: #222; background-position: bottom; background-repeat: no-repeat; padding: 15px 0 20px; margin-bottom: 40px; border-top: 4px solid rgba(0,0,0,.8); border-bottom: 1px solid rgba(0,0,0,.2); } #pu-email-form-buffalo-next-article, #pu-email-form-buffalo-next-article p { font-family: -apple-system, BlinkMacSystemFont, "Segoe UI", Helvetica, Arial, sans-serif, "Apple Color Emoji", "Segoe UI Emoji", "Segoe UI Symbol"; } #pu-email-form-buffalo-next-article h2 { font-size: 24px; margin: 15px 0 5px 0; font-family: "serif-ds", Times, "Times New Roman", serif; } #pu-email-form-buffalo-next-article .lead { margin-bottom: 5px; } #pu-email-form-buffalo-next-article .email-desc { font-size: 16px; line-height: 20px; margin-bottom: 5px; opacity: 0.7; } #pu-email-form-buffalo-next-article form { padding: 10px 30px 5px 30px; } #pu-email-form-buffalo-next-article .disclaimer { opacity: 0.5; margin-bottom: 0; line-height: 100%; } #pu-email-form-buffalo-next-article .disclaimer a { color: #222; text-decoration: underline; } #pu-email-form-buffalo-next-article .email-hammer { border-bottom: 3px solid #222; opacity: .5; display: inline-block; padding: 0 10px 5px 10px; margin-bottom: -5px; font-size: 16px; } @media (max-width: 991px) { #pu-email-form-buffalo-next-article form { padding: 10px 0 5px 0; } } .grecaptcha-badge { visibility: hidden; }